Arsis Ensemble News & Events
"Quarter of a century with friends"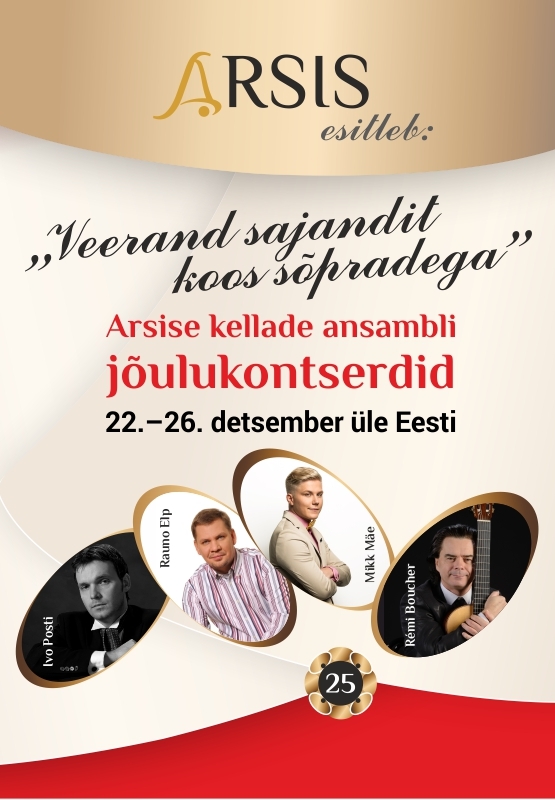 Arsis handbell ensemble's Christmas concerts take place from 22nd until 26th of December in five different cities in Estonia - Haapsalu, Pärnu, Tallinn, Viljandi and Tartu.
This year Christmas tour is full of surprises! Arsis will take to the tour its best friends with whom ensemble has been performing in homeland and in abroad. In Haapsalu can be heard a beautiful voice of the countertenor Ivo Posti, in Pärnu Arsis is playing well-known arias for baritone, sang by Rauno Elp from Estonia National Opera, in Tallinn, Viljandi and Tartu will be joining Arsis guitar virtuoso Rémi Boucher from Canada and Estonian superstar Mikk Mäe. 
In the concerts can be heard Arsis' youth ensembles as well, condutor Aivar Mäe and Mari Tooming in Tartu.
Tickets from Piletilevi and Piletimaailm
 Additionally to the colorful soloists Arsis is presenting its new CD "Quarter of a century with friends" which will be released in December to celebrate ensemble's 25th of Anniversary!
22.12 at 18:00 in Haapsalu Dome Church
23.12 at 18:00 in Pärnu Concert House
25.12 at 12:00 in Estonia Concert Hall, Tallinn
26.12 at 14:00 in St John's Church in Viljandi / at 18:00 in St John's Church in Tartu